​No president has faced the challenges confronting Joseph R. Biden Jr. as he takes on his new role. Awaiting him is a pandemic that has killed more than 400,000 Americans, an economic crisis that has caused the greatest job losses in 75 years, distressingly frayed race relations and a bitter political divide.
An early test will be Congress' reaction to the $1.9 trillion proposal Biden unveiled two weeks ago to combat the pandemic and bolster the weakening economy. The U.S. Department of Labor reported that 900,000 people filed for unemployment for the week ending Jan. 16 and 926,000 filed the previous week—the highest amount in roughly five months. Last year, the total number of jobs nationally fell by 6.2 percent, according to a preliminary report by the U.S. Bureau of Labor Statistics. That's the largest drop since the 6.6 percent fall in 1945.
President Biden has stated that his top four priorities are ending the COVID-19 epidemic, jump-starting the economy, stopping climate change and addressing social justice. Tackling those issues was always going to be excruciatingly difficult. And that was before a mob of former President Donald Trump's supporters stormed the U.S. Capitol in a rampage that left five dead. Just prior to the riot, Trump gave a fiery speech directing his supporters to march to the Capitol. That led the House of Representatives to impeach Trump again—this time for inciting an insurrection.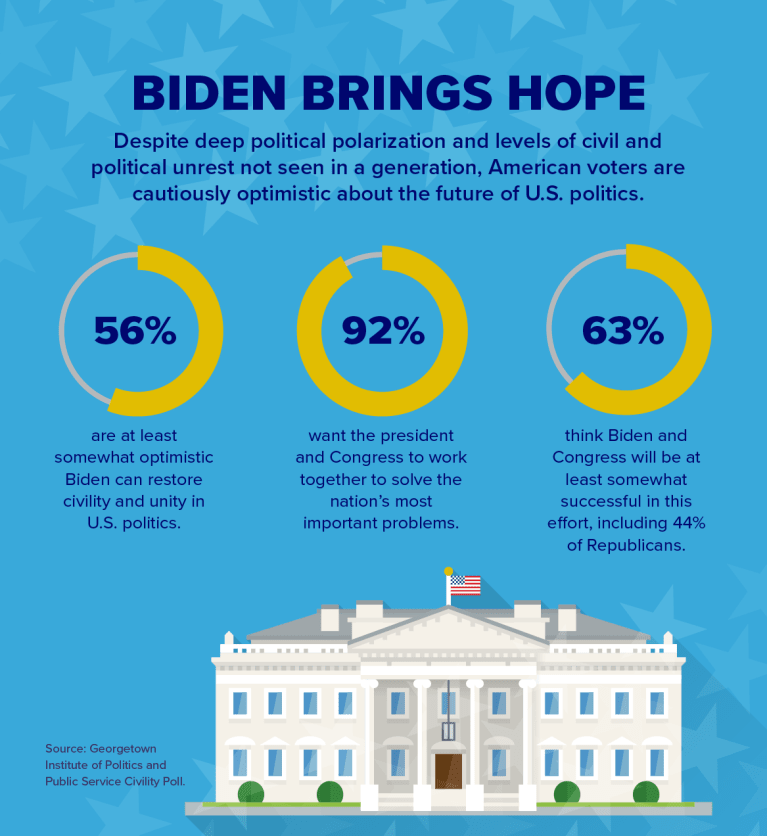 Now the question is whether the fallout from those events will further complicate Biden's efforts to push through his agenda.

Experts say Congress may want to signal unity to a fractured nation. In a rare act of bipartisanship, 10 Republicans joined Democrats in the House to impeach Trump. Senate Minority Leader Mitch McConnell said he might support impeachment, according to published reports, and also said that Trump "provoked" the Capitol Hill mob.
"What happened at the Capitol scared everyone," says David Schultz, a professor of political science and legal studies at Hamline University in St. Paul, Minn. "I think there's a sense that even if we aren't meeting in the middle, we're at least coming off the parameters."

Leveraging Relationships
Schultz adds that big business's reaction to the tumult may also push the parties together. Earlier this month, nearly 200 business leaders urged Congress to certify Biden's election, saying efforts to delay the process ran counter to democracy and would hurt the nation's recovery. The Capitol riot pushed many companies to stop funding either Republicans who voted against certification or politicians overall. Retailers such as Bed Bath and Beyond and Kohl's stopped carrying MyPillow products after company founder and CEO Mike Lindell repeated false claims of election fraud, according to published reports. Neither retailer responded to requests for comment.
Others disagree, saying the gulf between the two parties is too wide to bridge and moderate Republicans fear primary challenges from Trump-supported candidates.

There's also a concern that the Senate impeachment trial could overshadow Biden's agenda.
"The cliché is that Congress can walk and chew gum at the same time, but in my long career I've seen them on their knees choking," says Joe Minarik, senior vice president of research for the Committee for Economic Development of The Conference Board. "Attention is often drawn to the more spectacular event—like the politically charged impeachment of a president."
Biden's background as a longtime senator and former vice president with relationships on both sides of the aisle will help lead to compromise, says Dana J. Thompson, partner and co-founder of Fulcrum Public Affairs, an advocacy firm that represents the Society for Human Resource Management (SHRM).
"Biden is a dealmaker," Thompson says, adding that the president understands the challenges Republicans face as well as what the left wing of the Democratic Party demands. "He's going to be very careful in his messaging," Thompson says. "He won't be able to go too far left where there's no deal to be made [with Republicans]."

Democrats do have a slight majority in Congress, and in some instances legislation can be passed with a simple majority. The Senate is evenly divided, though Vice President Kamala Harris will cast the tie-breaking vote.
Biden can also change policy through executive orders and is expected to quickly reverse some of his predecessor's moves. For example, Biden says the U.S. will rejoin the Paris Agreement, an international effort to stop climate change. Trump ordered the U.S.'s withdrawal in 2019. Biden is also expected to throw out Trump's order forbidding certain types of diversity training by the federal government and its contractors.
Here's how some major workplace issues and industries may be affected by the Biden presidency.
Health Care
Ending the pandemic and expanding access to health care were signature issues of Biden's campaign, and the people to lead those efforts were among his first Cabinet selections.

Biden plans to build on the framework of the Affordable Care Act—which was enacted when he was vice president under Barack Obama—to broaden access for everyone.
However, the full extent of what needs to be adjusted won't be revealed until June. That's when the Supreme Court is expected to rule on
California v. Texas, a case heard in November that challenges the Affordable Care Act's (ACA's) constitutionality. During oral arguments, the majority of justices appeared to lean toward upholding the law, though the court could strike down the individual mandate requirement, according to experts.
"The ACA ruling will kick up a lot of dust," says Ellen Kelsay, chief executive officer of the Business Group on Health (BGH), a Washington, D.C., nonprofit that advocates for major companies. Kelsay says dealing with the fallout could push back other initiatives. 
Biden proposed establishing a public option for people who can't get insurance or want a wider array of choices. The BGH favors such a move because having a greater number of insured people will stabilize the market. Kelsay notes that employers often pay for the cost of caring for the uninsured through cost-shifting by providers.
Many of Biden's policies on drug pricing focus on what federal programs pay for medicine, such as requiring drug corporations to negotiate prices with Medicare. Even if such steps were enacted, it's uncertain whether they would lower prices for employers, experts say. However, both parties want a solution to skyrocketing drug prices, making that a potential issue for bipartisan compromise.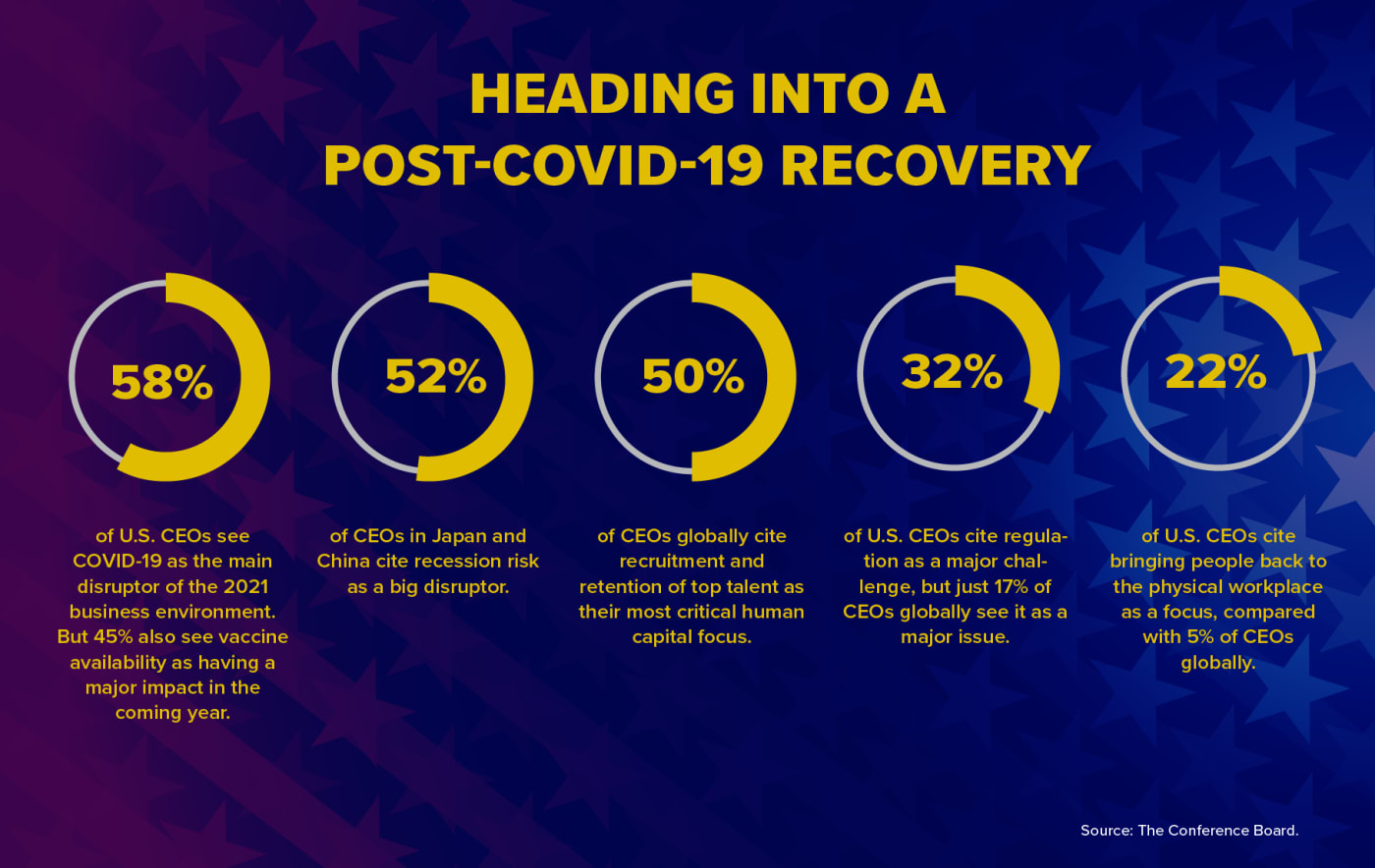 The Economy
Biden's rescue plan includes $20 billion for a national COVID-19 vaccination effort and $50 billion for testing. It also includes a $1,400 direct payment to most Americans, child care subsidies, an extension on the eviction moratorium and more-generous unemployment benefits.
The proposal also seeks to raise the federal minimum wage to $15 an hour and give billions of dollars to state and local governments to cover budget shortfalls.

Some of those ideas are likely to encounter resistance, Minarik says, noting that aid to states and local governments was a major sticking point in the aid package passed last month.
Later this month, Biden plans to announce a recovery plan that is expected to include funding environmentally friendly infrastructure projects. He may also introduce a penalty tax on companies that move jobs overseas.
Job creation is critical to both improving the economy and helping the nation heal, experts say, because economic inequity is a major cause of the country's divisions.

"Once we get herd immunity, the jobs still aren't going to be there," Minarik says.

Thompson explains that Biden can use his job proposals and economic policies to fulfill other parts of his agenda. For example, green jobs should help lessen pollution, which would dovetail with his desire to reverse climate change. It could also lessen asthma rates, which are especially high in lower-income communities of color. That helps the effort to achieve social justice.

"Everything is concentric circles," Thompson says.
Racial Equity
Biden has proposed a smorgasbord of programs worth hundreds of billions of dollars to provide loans, grants, tax credits and technical assistance to small and minority-owned businesses. That's encouraging, says Karen Boykin-Towns, a vice chair at the NAACP and president and chief executive officer of Encore Strategies, a New York City-based business consulting firm. Even if at least some of the funding becomes available, she says, the key is communicating the programs to those who need them.

"Targeted interventions are only the first step," Boykin-Towns says. "They also need the bandwidth to get out into the community." She adds that small business owners are often so busy running their enterprises that they don't have the time or staff to stay abreast of government programs.
The NAACP suggested to Biden that he name a diversity czar and make that person a member of the Cabinet.
"The good news is it wasn't rejected," Boykin-Towns says. "We're at a racial reckoning. We need to be bold."

Many corporate diversity efforts fall short because those running them aren't part of the senior management team that sets policy.

"What we know from experience in the corporate world is that diversity and inclusion can't be siloed," Boykin-Towns says. "They need to be in the organization's DNA, and if not, you don't get results."
She says Biden already enjoys goodwill and trust from many in the minority community, which will be helpful going forward. Having Harris as vice president is also a huge plus, as are the diverse Cabinet picks.

"You can expect to see a lot of support, advocacy and criticism when it is due," Boykin-Towns says. 
​

Donald Trump (2017-21)
The Tax Cuts and Jobs Act was passed in 2017. It cut the corporate tax rate to 21 percent from 35 percent while also providing tax relief to many Americans.
The United States-Mexico-Canada Agreement, which was passed in 2020, created a more balanced, reciprocal trade pact between the three countries.
Barack Obama (2009-17)
The Lilly Ledbetter Fair Pay Act was passed in 2009, making it easier to file salary-discrimination cases.
The American Recovery and Reinvestment Act of 2009 was designed to save and create jobs in the wake of the Great Recession.
The Patient Protection and Affordable Care Act was passed in 2010. It aimed to increase access to health care while improving quality and affordability.
The Dodd-Frank Wall Street Reform and Consumer Protection Act was signed in 2010. It gave regulators more authority to break up large companies and enacted protections for consumers against risky loans and credit cards.
George W. Bush (2001-09)
The Economic Growth and Tax Relief Reconciliation Act of 2001 cut taxes by $1.35 trillion through lowering income tax rates.
The No Child Left Behind Act was signed in 2001 and requires standardized math and reading tests while allowing local authorities more flexibility in spending federal dollars.
The Jobs and Growth Tax Relief Reconciliation Act of 2003 was passed to bolster the economy through cutting $350 billion in taxes.

The Medicare Prescription Drug, Improvement and Modernization Act of 2003 added a prescription drug benefit for Medicare patients for the first time and created incentives for private insurance companies to cover Medicare subscribers.
Bill Clinton (1993-2001)
The Family and Medical Leave Act requires companies to provide workers with up to three months of unpaid leave for family and medical emergencies. It was signed in 1993.
The Brady Act, signed in 1993, required potential handgun buyers to wait five days while law enforcement conducted background checks.
The North American Free Trade Agreement eliminated most trade barriers between the U.S., Canada and Mexico when it was signed in 1993.
The Personal Responsibility and Work Opportunity Reconciliation Act, commonly known as "Welfare to Work," was signed in 1996. It limited who qualified for public aid, lowered payments and cut the length of benefits. Individuals were given increased funds for child care so they could work.
George H.W. Bush (1989-93)
The Americans with Disabilities Act was signed in 1990. It prohibits discrimination against people with physical and mental disabilities in several areas, including employment, transportation, public accommodations, and access to state and local government programs and services.
Sources: Miller Center of the University of Virginia; U.S. Department of Labor; Center on Budget and Policy Priorities;
Business Insider.
Taxes
Corporations and high-income individuals are likely to pay higher taxes under the Biden administration because hikes can be passed through a simple majority.
During the campaign, Biden proposed raising the corporate tax rate to 28 percent from 21 percent. His platform also included imposing a minimum tax on U.S. companies and raising taxes on the income they earn abroad.

Biden also proposed raising income taxes on households earning $400,000 or more to 39.6 percent from 37 percent.
Democrats can't afford to lose any votes. They may need some Republican support if the different factions of their own party can't agree on the amount of the increases or where they will be directed.

"It will be challenging [for Democrats]," says Rohit Kumar, co-leader of PricewaterhouseCoopers' national tax office. "Both edges of the spectrum are going to have to negotiate with each other."
Climate Change
Biden demonstrated how seriously he views the fight against climate change when one of his first actions was naming former Secretary of State John Kerry as his international special envoy on climate, creating a new Cabinet position. He also appointed Gina McCarthy, who ran the Environmental Protection Agency under Obama, as national climate adviso. And on Inauguration Day, he blocked the Keystone XL pipeline project, citing environmental concerns.
Conversely, the Trump administration was widely criticized by scientists and environmental groups for loosening or eliminating regulations, laws and standards designed to protect the environment. Among Biden's first actions will be to undo rules that don't need congressional approval. That's a lengthy, multistep process, so it will take time.
Some of Trump's rules are being challenged in court. The Biden administration can reverse them by not defending them, says Jeff Holmstead, a partner at Bracewell, a Washington, D.C., law firm. A former assistant administrator of the Environmental Protection Agency's Office for Air and Radiation, Holmstead expects the new administration to issue new fuel emission standards for cars and trucks and to offer proposals to lower methane emissions.

Additional actions Biden can take to elevate the environment's importance: more aggressively enforcing existing laws and regulations, and hiring experienced scientists to help develop rules and policies.
Republicans' disinterest or disbelief in climate change, however, likely thwarts any chance of a major environmental package getting through Congress, experts say.
According to Holmstead, it takes years to see results from changes designed to reduce greenhouse gases and improve the environment. Though the energy sector is shifting away from oil and coal, he notes, the transition could take decades.
"Biden can affect the pace," Holmstead says. "He will be focused on changing the slope of the curve."
Theresa Agovino is the workplace editor for SHRM.

---
Explore Further
SHRM provides advice and resources to help business leaders prepare for the impact of a new administration.
Executive Actions Promote Racial Equity, Champion Pandemic Measures
Advancing racial equity, supporting underserved communities and protecting workers from COVID-19 were among the measures President Biden took following his inauguration.
President Biden unveiled legislation that would create a pathway to citizenship for the roughly 10 million to 12 million undocumented immigrants living in the United States.
Many priorities at the enforcement agencies will remain the same as they did under the direction of former President Trump, at least initially.
Labor Secretary Will Face These Challenges
Boston Mayor Marty Walsh could take on gig workers' rights, unemployment insurance and more emergency leave.
Biden Seeks to Strengthen Registered Apprenticeship Program
Investing in apprenticeships is on Biden's to-do list. He has said he wants to put $50 billion into workforce training.
Employers Consider COVID-19 Testing as Vaccine Rolls Out
Testing employees could become part of a safe workplace strategy in 2021.


Resource Center: Politics in the Workplace
This resource center is designed to provide practical strategies and suggestions for creating an environment of empathy and respect.