As part of an effort to recognize the next generation of human resource leaders, the Society for Human Resource Management (SHRM) is naming students, alumni and others who work on behalf of emerging professionals as SHRM Emerging Professional Champions. This week, we're looking at Cameron Smith, who recently earned his master's degree in human resources and management from Morgan State University in Baltimore.
SHRM student chapters can be valuable resources for aspiring HR professionals; they can connect them with other students and alumni and help them find internships. Unfortunately, not all schools have chapters—so sometimes, students need to create their own. And that's what Cameron Smith did.
Smith got the HR bug late in his undergraduate years at Wiley College in Marshall, Texas. He was majoring in business administration and wasn't entirely sure what he wanted to do with it, but he knew he wanted to earn an advanced degree. During his junior year, he came to the realization that earning an MBA in HR was the next step he wanted to take.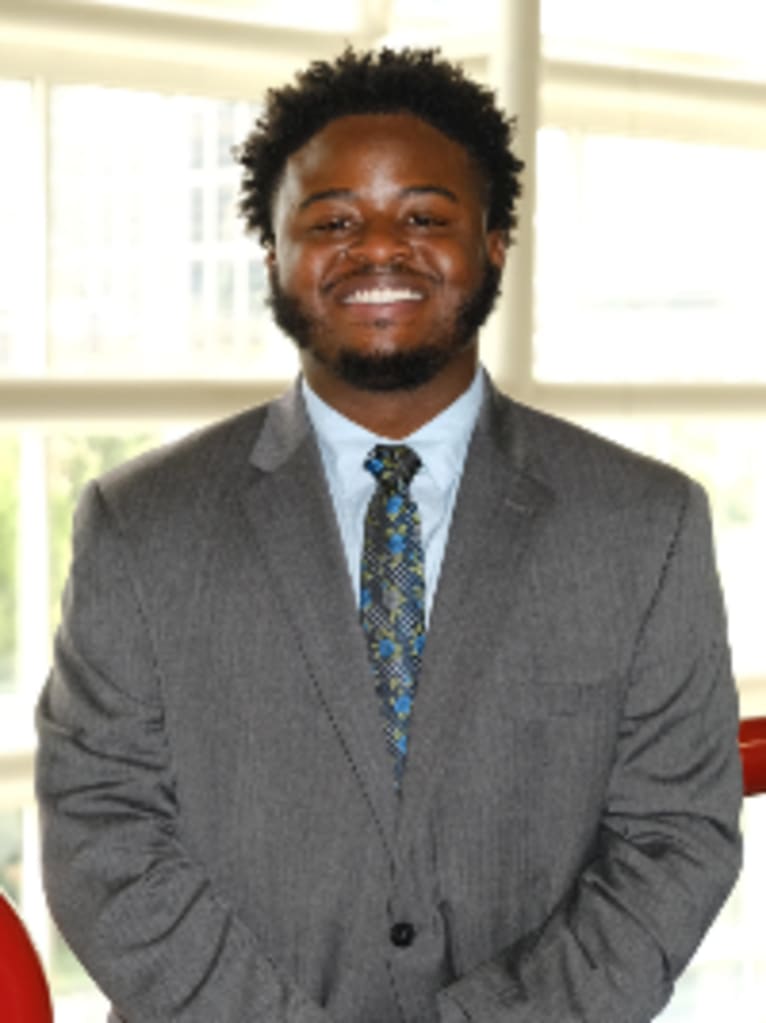 Smith decided on Morgan State for graduate school but found that it had no SHRM chapter. So he took it upon himself to help start one with other HR students. Fortunately, he had the full support of Nicholas Fletcher, associate director of the MBA program, who eventually became the SHRM student chapter advisor. "Our associate director allowed students to drive the culture and implement ideas that we thought of," Smith said. "And as a SHRM member himself, he was very helpful in getting us connected with the SHRM community."
On the student side, both Smith (who served as president of the chapter) and his vice president Tamika Mason worked to grow membership. Both were graduate students, but they wanted to make sure that all HR students at the university were aware of the chapter and could join if they chose to. "Our first step was just trying to get people on the graduate level involved, and then we begin to reach out to the undergrad population and figure out ways to engage with them," he said.
Since its inception in 2020, the Morgan State SHRM student chapter has grown and now offers a SHRM certification prep course to students. The chapter is still gaining prominence, but Smith is confident that it will continue to receive strong support from the university for years to come.
Morgan State also provided Smith with internship opportunities. His first was through the head office of his fraternity, Alpha Phi Alpha Fraternity Inc. in Baltimore. Working as a graduate assistant, he was responsible for learning and development initiatives for the fraternity's undergraduate members. Acting as a liaison for over 10,000 people across the country helped Smith become a more effective leader.
Smith then moved on to an internship in the office of global diversity at Chevron during the summer of 2020. At the time, the global Black Lives Matter protests were prompting Fortune 500 companies like Chevron to reassess their commitment to diversity, equity and inclusion. Smith's assignment was to create and work with 12 different affinity groups across the organization, helping them improve their performance and standardize their practices. "That was the best summer internship I could have had," he said. "It was very challenging and very demanding, but at the same time, so important."
Looking ahead, Smith plans to sit for the SHRM-CP exam. He's also looking for his first full-time HR position, with the goal of eventually becoming a chief human resource officer. "I'm looking for companies that have upward mobility through the organization," he said. "And then, ultimately, just working my way up to the C-suite, honestly, is what I'm looking to do."
Outside of HR, Smith also has a passion project in mind. He wants to start a nonprofit program that would help young black men who live in inner cities gain more exposure to the world. The program would hopefully provide them with opportunities to see colleges and universities and do some international travel. "I know for me, that's something that showed me at a very young age that the world was bigger than where I live," he said. "And that really motivated me to go out and see the world, make connections, and do a lot of things which I'm doing now, in hopes to just give that opportunity back."
Do you know an outstanding SHRM student leader? How about a former SHRM student member who is achieving great success professionally? Or maybe a SHRM professional member, student chapter advisor or professional chapter that is advancing student membership and emerging professional programming? Nominate them as a SHRM Emerging Professional Champion today.
[Students, would you like to learn more about the HR profession? Join us at the SHRM 2021 Annual Conference & Expo, taking place Sept. 9-12 in Las Vegas and virtually.]