Target didn't suddenly start thinking about social justice in 2020, when protests and turmoil roiled the U.S. The company already had a robust diversity, equity and inclusion (DE&I) strategy, according to Kiera Fernandez, Target's senior vice president of talent and change and chief diversity and inclusion officer.
That strategy has been in place for roughly 16 years. The company spent the first nine of those years establishing its DE&I office, team and capabilities. It used the following years to refine its strategy, goals, metrics and outcomes to get where it is today, Fernandez says. "That's really important because in order to launch DE&I initiatives [last year], we had to stand on a really firm foundation,"  she explains.
The company's efforts have produced results. Since 2019, Target (the nation's eighth largest retailer by sales, according to the National Retail Federation) has increased the number of people of color it employs in exempt roles by 15 percent. The number of women promoted to senior leadership roles is up by 17 percent.
Even so, Fernandez acknowledges that the company's DE&I foundation wasn't as solid as it could have been by last year. About 75 percent of Target's leadership team is white, 8 percent Latinx and 8 percent Black, according to the company's 2019 Workforce Diversity Report, while Target's overall workforce is 50 percent white, 25 percent Latinx and 15 percent Black.
"We weren't accelerating a number of our priorities across our Black team member, guest and community populations in the same way we saw it progress across other parts of our business," Fernandez says.
The events of 2020 forced the company to accelerate those priorities—and fast.
Standing Against Racism
For Target, which is based in Minneapolis, George Floyd's death took place, quite literally, close to home. "George Floyd was murdered down the street from our headquarters location," Fernandez says. "We've had a number of team members impacted by situations they'd describe as similar to what led up to George Floyd's murder."
For Fernandez, the incident resonated personally. "I think for the first time, perhaps, folks that maybe haven't had direct experience with what people have described as racism and the really challenging interactions with the police that many people of color, [including] I myself, have experienced—for the first time, many people saw it connected to them because it was such an egregious act."
Target CEO Brian Cornell reportedly said his first reaction to watching the TV coverage of the Floyd killing was to think, "That could have been one of my Target team members."
Amid the repercussions of Floyd's death, as well as the raging COVID-19 pandemic, Fernandez and other company leaders realized they had to act. They needed to support not only Target's Minneapolis-based employees but all of its almost 400,000 workers across more than 1,900 stores worldwide.
Target's leaders took some immediate steps. They conducted listening sessions for all workers, especially those from marginalized communities, so the workers could share how the year's events affected them. The company also provided new benefits, such as letting vulnerable employees (those who had existing health conditions, were pregnant or were over age 65) take paid leave, offering alternate transportation in areas with reduced or limited public transit, and providing personal protective equipment and thermometers to all employees. 
Last summer, Target also created a committee called REACH (Racial Equity Action and Change). Fernandez calls it "the first thing we did of significance" after Floyd's death. Made up of Fernandez and five other senior leaders, the REACH committee focuses on "creating lasting change for the Black community," she says.
Last September, Target indicated what that lasting change would look like when the retailer pledged to take the following measures in pursuit of that goal:
Increase its representation of Black employees by 20 percent over three years.
Provide leadership pathways for Black employees.
Hire and retain Black employees in areas of the company where they are less represented, such as in technology and marketing.
Increase its network of mentors and sponsors for Black workers.
Ensure that its benefits promote wellness and safety for Black employees.
Conduct anti-racist training.
Yet Fernandez maintains that 2020 didn't fundamentally alter the company's DE&I efforts. "All it really did was accelerate initiatives we already had prepared to launch," she says.
Among those initiatives is the company's anti-racism training. "It won't just be a one-time experience," Fernandez says of the effort. "It's multifaceted. It's robust, comprehensive and we're really excited about it."
Fundamentally, she says, anti-racism for Target means "standing against racism and operating with the belief that every person is equal."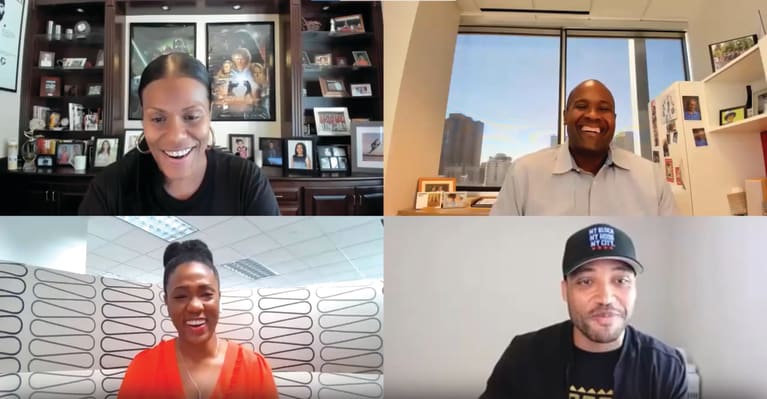 Spreading Joy
In light of the pandemic, Target invested $1 billion more in employee benefits and pay during 2020 compared to 2019, according to the company. Despite societal and economic challenges, the business enjoyed a banner year:
Fortune called Target "one of retail's biggest winners in the pandemic and its aftermath." The company saw its revenue rise in 2020 by more than it had risen in the previous 11 years combined,
The Wall Street Journal reported. Revenue totaled $93.6 billion, a 20 percent increase from the previous year.
As Fernandez describes it, helping workers helps the business. "Our team is critical to our success, and anything that is harmful to our team is actually harmful to the company and its strategy," she says.
That strategy—"to bring joy to all guests," Fernandez says, using Target's term for customers—means the company must champion a more inclusive society. The fact that "joy" features prominently in the company's purpose statement suggests it's about more than creating a feel-good, happy place; rather, it's about achieving a strategic vision. "We care, grow and win together," she says.
'Our team is critical to our success, and anything that is harmful to our team is actually harmful to the company and its strategy.'
For Fernandez, "joy" isn't just a company slogan. It's fundamental to her character, according to Brad Taylor-White, senior vice president of human resources for Target. "Kiera is the kind of person you want to be around because her energy is electric, her perspectives are invaluable and her joy is contagious," Taylor-White says.
Target responded to 2020's protests and turmoil not only with internal policies that promote DE&I but with external assistance, as well. "Certainly, the issues not just of last year but previous years had a detrimental and challenging impact on many people in the Black community," Fernandez says.
In June 2020, Target committed $10 million to organizations advancing social justice and rebuilding efforts in local communities. It also pledged to provide 10,000 hours of pro bono consulting services for business owners of color in the Minneapolis–St. Paul area.
And earlier this year, Target announced a $2 billion investment by 2025 that focuses on Black-owned businesses. Black entrepreneurs also will have the opportunity to learn from Target's internal team about how to grow and scale their businesses. To enhance its operations and the customer shopping experience, Target promised to add products from more than 500 Black-owned businesses and engage more Black-owned companies. 
Yet for all she has helped accomplish, Fernandez continues to think of what else she might have done. "Last year was really tough, and we're continuing to recover from that," she says. Despite any achievements, "it's still never enough because it was so hard on folks."
Setting the Stage
Fernandez has an appreciation for the employees on Target's front lines because she worked as one herself. She started with the company in 2001 and spent several years as a store team leader in her hometown of Phoenix. 
"On the front line, you lead a team of people and you connect closely with guests," she says. "You're in the community and you understand how important the day-to-day interactions are for people."
In her last in-store job for Target, she oversaw a team that peaked at 400 employees during its busiest times of the year. She learned how to "galvanize a group of people around a common purpose," says her current boss, Melissa Kremer, Target's executive vice president and chief human resources officer. That's an ability that has helped Fernandez in HR—and that has impressed Kremer. 
"People want to follow her," Kremer says of Fernandez, because of "her ability to inspire, combined with her genuine care, compassion and community-based leadership."
In 2007, Fernandez moved her family to Minneapolis, where she went to work at Target headquarters and, more than a decade ago, joined its HR department. Over the past two decades, she has learned the ins and outs of the retailer's business.
Her early family life set the stage for her later career success, she says. "I grew up with working women," says Fernandez, whose mother and other female relatives were educators. "I was raised with women who worked and had career aspirations. They certainly informed me that I could accomplish anything and there was nothing about my identity as a woman, Black woman or anything else that could get in my way."
'I feel fortunate that from the moment I entered the world, I experienced many different cultures, many different lived experiences. That certainly shaped everything about me now.'
Her mother's parents were born and raised in the Jim Crow South. "They lived through significant racism and oppression, yet have an incredible sense of family and an appreciation for education and a belief that the only advantage any of us needed in life was fairness, determination and hard work, and the family structure would support us," Fernandez says.
Her multicultural upbringing was also foundational, she says: Her family on her mother's side is Black, her paternal grandmother is white, and her paternal grandfather was Hawaiian Latino. "I feel fortunate that from the moment I entered the world, I experienced many different cultures, many different lived experiences," Fernandez says. "That certainly shaped everything about me now."  
Novid Parsi is a freelance writer based in St. Louis.