​Very light golden. Medium deep rose. Deepest almond.
The skin tones found spilling from your child's yellow-and-green crayon box are a lot more diverse than they used to be, a veritable rainbow of waxy hues.
Crayola created its award-winning "Colors of the World" (COTW) packages of crayons, markers and pencils to reflect global differences and be more inclusive in its product offerings, according to Mimi Dixon, director of brand activation and content at Crayola.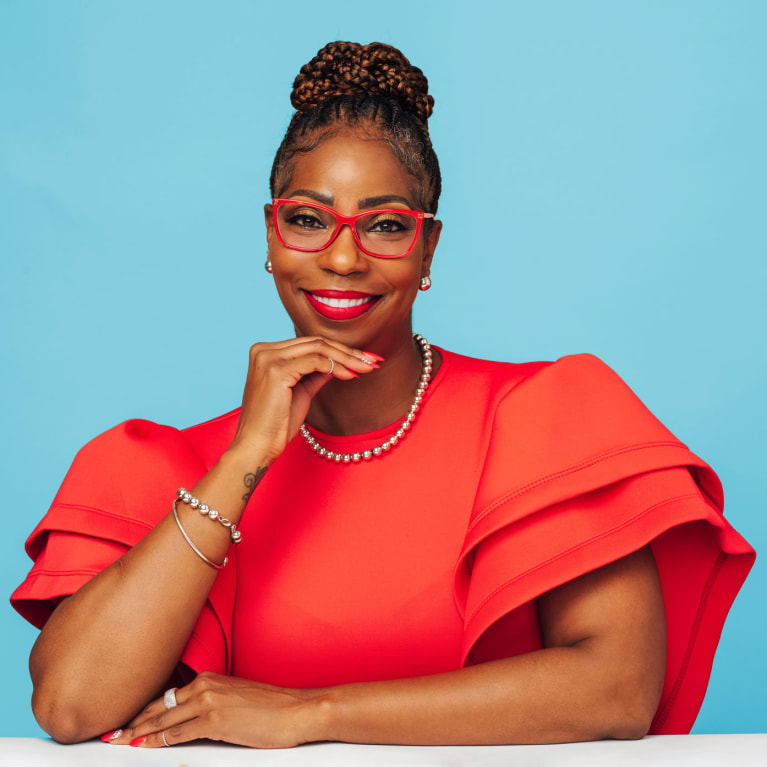 Dixon oversees advertising, public relations, shopper marketing, national marketing campaigns, and digital and social content and imagery. She will be a
panelist Oct. 25 in the Together Forward @Work presentation during the SHRM INCLUSION 2021 conference in Austin, Texas. Joining her will be John's Crazy Socks co-founders Mark Cronin and his son John, who has Down syndrome; Casey Adams Jones, communications lead for U.S. self-care at Johnson & Johnson Consumer Health; and Collis R. Jones, vice president of U.S. public affairs policy and strategy at Deere & Co.
One thing Dixon plans to emphasize during the panel discussion is that consumers are calling for more representation in entertainment, products and marketing.
"Inclusion is absolutely critical for brands, both internally and externally," she said.
CREATE LASTING IMPACT IN THE WORKPLACE
Join us at the

SHRM INCLUSION 2021 conference Oct. 25-27 in Austin, Texas, for three engaging days of learning and networking. You will get the tools, best practices and actionable solutions you need to build a more diverse, equitable and inclusive workplace.
Register Now
She recommends that organizations solicit insights from a diverse group of consumers because they will see the product through different lenses; listening to their feedback can help make your product more appealing to a wider array of people. Crayola's focus group included parents and teachers weighing in on all aspects of COTW and its campaign.
"They helped us design it," Dixon said of the group, and based on its recommendations, the company:
Expanded the number and hue of skin tones in its crayons, using a color palette of 40 tones to formulate 24 new colors that fall into three main shades—almond, gold and rose, with darker and lighter hues represented among the main shades.
Added eight colors that represent the most commonly found hair and eye shades from around the world.
Used more-accurate color names.
Wrapped each crayon in a gradient skin-tone label with the name indicated in English, French and Spanish.
Reworked the name to include "world" for a better product description and to promote unity.
The result: an award-winning product whose accolades include being named the
2021 Creative Toy of the Year by the U.S. Toy Association and winning the Association of National Advertisers' 2020 Multicultural Excellence Award for total market campaign. The product launched May 21, 2020, on U.N. World Day for Cultural Diversity for Dialogue & Development.
SHRM Online talked with Dixon to learn more about Crayola's inclusion work. The following comments have been edited for length and clarity.

SHRM Online: Tell us how Crayola went about creating COTW.
Dixon: We launched something similar in 1992, but I think it's the way we brought it to the marketplace this time that is different. There were eight skin-tone colors in the 1992 launch—like mahogany, tan, sienna—that mimicked skin tone, and they were put together in a collection of 24 crayons.
We said, "Let's understand that the world is becoming more diverse, and we need more representation in our product. There are more than eight shades of skin in the world, and how do we best represent those shades?"
I looked around to see who was moving the most in diversity and inclusion (D&I) representation. To me, it was Fenty Beauty, the makeup line that singer and actress Rihanna had launched two years earlier with 40 foundation shades. We looked for someone who was knowledgeable in creating those colors to build these 24 new colors for Crayola: Victor Casale, co-founder and chief executive officer at MOB Beauty in San Francisco. 
We also sought representation from a diverse focus group of influencers during eight product checkpoints.

SHRM Online: You serve as chair for Crayola's first D&I Council. What was the catalyst for its creation, and what were some lessons learned?
Dixon: We began recruiting for the council in September 2020 and held our first meeting in November 2020. We leveraged the COTW launch as a linchpin to optimize our current D&I efforts. We brought in D&I expert Margenett Moore-Roberts to sit with our leadership team.
[Editor's note: Moore-Roberts holds D&I certification from Cornell University, served as Yahoo's vice president and global head of inclusive diversity, and is chief inclusion and diversity officer at IPG Extra, a global collective of 27 marketing specialty brands.]
She talked one-on-one with Crayola's leadership regarding their mindset around D&I and Crayola's D&I journey and formulated a multiyear strategic recommendation from these conversations. Orville Trout, Crayola senior vice president of HR, transformed those recommendations into customized and measurable D&I strategies Crayola has been successfully activating against for nearly two years.      
In 2020, Crayola held its first D&I summit to drive overall awareness and understanding of D&I, and more importantly, to educate employees about what D&I is, why it's important, and what it means for employees and our target consumer. The brand's most recent summit focused on the business case for D&I—showcasing how D&I comes to life through our brands and marketing efforts to consumers.
Both summits also featured a diverse panel of employees representing different aspects of diversity—such as race, gender, religion, physical and mental abilities—sharing their personal experiences regarding inclusion and equality. These stories brought a personal and empathetic perspective to attendees to help with the education on the importance of D&I.

SHRM Online: You worked in concert with Crayola HR to launch the company's Inclusion Council. How did you go about this?
Dixon: First, I benchmarked and researched best practices of other companies, including those outside our industry—how they built their councils, the structure, representation, goals and objectives.
Second, we needed a collection of different people and made sure they were set up for success and their participation was something they could handle incrementally, in addition to their current tasks. We ended up with 15 members from different departments, geographic locations and business types within Crayola.

SHRM Online: What were a few lessons learned?
Dixon: D&I is a fluid process. It's going to be continuous learning. It's important to:
Understand what D&I means to your company, because it means different things to different companies. For Crayola, inclusion is critical because inclusion fosters belonging—a sense of feeling security, support, acceptance and value. Belonging helps drive trust and collaboration and is foundational for productivity and for the successful tenure of employees, existing and new.  

Benchmark. I looked at companies that were doing it well, were forthright in what their councils were doing and how they measure it. It didn't matter that a company was bigger or smaller than us. (Crayola is privately held and has fewer than 5,000 employees.) It was more about the council—what it was doing, its goals and objectives.

Have wide representation. You need as many different lenses as possible, people with as many different experiences as possible.