​Workers want more conversations about diversity, equity and inclusion (DE&I) in the workplace, according to a study released by the global communications firm Edelman.
The Edelman Trust Barometer is a global survey comprising more than 36,000 participants spanning 28 markets around the world. The report assigns a score that measures the average percent of trust in institutions like non-government organizations, businesses, government and media.
The results,
published in January, found that 60 percent of employees expect CEOs to speak publicly about controversial social and political issues. Sixty-five percent of respondents expect them to inform and shape conversations and policy debates about issues involving prejudice and discrimination.
"Company leaders must play a role in discussing issues that are important to their employees, customers and the general public," said Trisch L. Smith, global chief diversity, equity and inclusion officer at Edelman. "Silence or nontruths are unacceptable in today's marketplace."
Informing Responses to DE&I Issues
Survey respondents were more worried about the lack of DE&I conversations in the workplace than the lack of discussions about improving health care systems or determining the next leader of the country, the report found.
But Smith said many CEOs avoid speaking on societal issues related to DE&I.
"Unfortunately, many leaders have become so concerned with saying the right thing or not offending a particular group that they end up saying nothing, which speaks volumes," Smith said. "Now more than ever, leaders are expected not only to advocate but to inform around DE&I issues, partner with diverse stakeholders where needed, speak out and take a stand."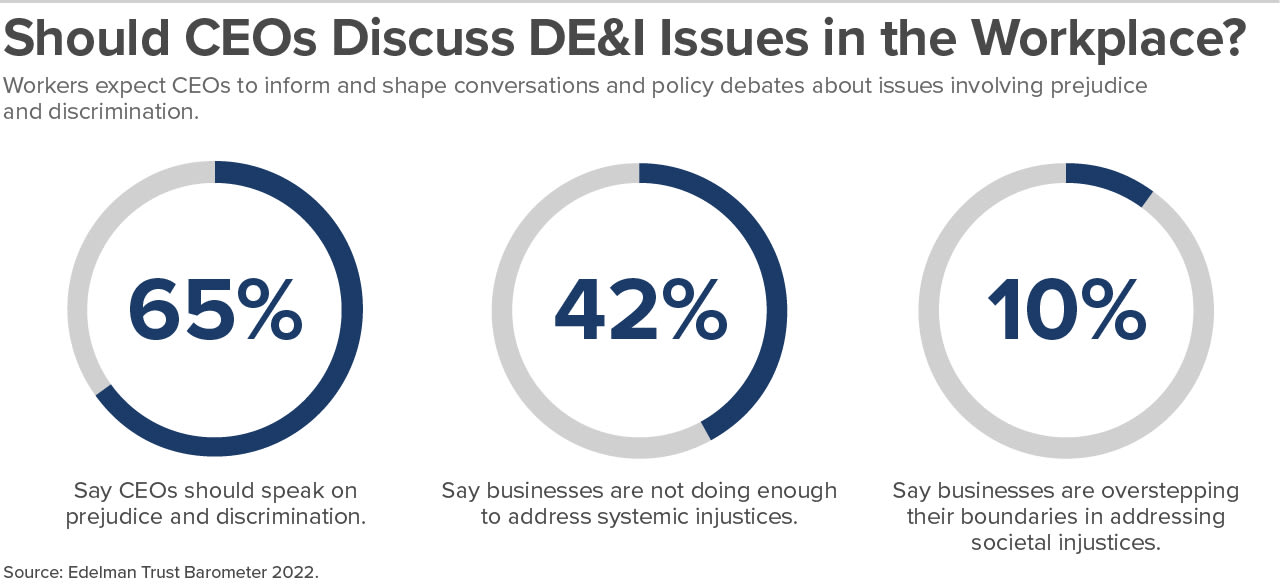 Neal Goodman is the president of Global Dynamics Inc., a company that offers cross-cultural training and other services, in Aventura, Fla. The company includes a team of diversity coaches who have experience successfully coaching executives on DE&I subjects.
Goodman said many CEOs need coaching to properly address DE&I topics. When staffers ask challenging questions, executives should not provide answers or rationalizations on the spot. A good response takes time to formulate. An external coach can also meet with the CEO to explore what can be done to mitigate an issue related to DE&I.
"This is a difficult discussion for some, and the unintentional biased comments or micro-messages can do much more damage than the best of intentions," Goodman said. "The CEO should acknowledge any complaint immediately and indicate that they will examine the situation and get back to the individual."
Business leaders don't have to make these decisions alone. They should work closely with their chief diversity officers and other people managers to address social issues. This is a habit of many successful DE&I programs.
"At Edelman, when we counsel clients and colleagues, we often say, 'It starts with you,' " Smith said. "Everyone at all levels in the organization must be invested and involved in the work if we are going to make lasting progress and drive systemic change."
Why Trust Is Important
More communication can lead to increased trust—particularly when it relates to DE&I.
Edelman states that trust defines an organization's ability to function, lead and succeed. It is a significant characteristic that enables a company to take responsible risks and correct past mistakes. Trust is not given, it is earned.
"To remain competitive and build loyalty among internal and external stakeholders, employees and customers must hear, see and feel an organization's diversity, equity and inclusion commitment," Smith said. "If these needs are not effectively met, employee recruitment and retention are impacted, public image and reputation suffer, and customer loyalty can be adversely impacted."
Employers could ask an impartial third party to conduct confidential focus groups or survey all employees regarding their experiences and insights. The results can then be anonymously put into a report for the executive team's consideration. Incorporating useful employee feedback into policies can increase trust within companies.
Goodman has used this tool to build trust in his own organization.
"In a company survey we conducted, multiple employees reported that there was little to no transparency when it came to the requirements for promotion or bonuses," Goodman said. "There was a very strong belief that bias and favoritism was responsible for who got promoted or was invited into the mentorship program. [The employee survey] led to increased transparency and a more open mentorship process."
Smith said being open and honest about DE&I issues also can lead to increased trust.
"Company leaders must be more open and honest about DE&I issues," she said. "It is not an option."